Giving often unsurvivable circumstances a moment of transcendence.
Purpose
Breathing Life into Colorless Spaces is about showing moments where the mundane turns to the surreal, the ugliness of existence is seen as suddenly beautiful, and the unsurvivable circumstance is given a moment of transcendence.
Writing by
Christian TeBordo
Claire Oleson
Grace Lanoue
Ian Woollen
Kate Lorenz
Kelly Marages
Leigh Bennett
Libby Flores
Linda Michel-Cassidy
Michael J. Coene
Rebecca Evanhoe
Stephen Raulli
Val Haynes
Alysse Kathleen McCanna
Cassie Pruyn
Didi Jackson
Emily Mohn-Slate
Jae Lee
Janeil Page
Jeffrey Alfier
John Gosslee
Kyle Adamson
Michael Salcman
Tara Ballard
Tyler Davis
Willie Davis
Art by
Kristina Boothe
Cover & Interior Art
Sean Tucker
Design & Layout

About the writing
T
he marvel, to me, of this issue is experiencing the breadth of voices, styles, and stories that cut to the heart of exactly what we set out to collect: writing with an urgent need to say something, to reach out from the page and connect.
Each of these writers go the distance, take risks, and ultimately reward the reader with engrossing, open, and honest work. The writing is, to put it simply, strong. Perhaps what impresses me most, however, is the depth of feeling enmeshed in the language itself. There are characters here, stories and poems and voices, that reveal our inner lives. There is loss, coming of age, sisterhood, despair, and desire. There is the passage of time. There is range.
As a collection, this issue blooms as you read it; the pieces converse with one another, amounting to the kind of journal that you'll keep on the table, not just on the shelf."
–  Agatha French
I
believe strongly that a poem must be concerned with its containment, its craft while simultaneously pushing against it – that tension should be palpable. All of the work we've chosen has an urgency of intention which pushed the writer to take risks in subject matter and form.
In reading this work you'll be asked to explore the emotions tied to our common humanity: the desperation and denial in loss, the weight of unsatisfied desire, and the exhilaration of intellectual and emotional freedom. It's at times raw, often naked in its vulnerability and exactly the kind of writing that reminds me why we need art to begin with.
I'm so pleased to introduce you to these writers whose work I deeply admire for its bravery and its truth.
–  Tiffany Melanson
About the art
I
have been intrigued by the natural phenomenon that sometimes occurs when two separate bodies of water converge. At specific moments of time you can witness a boundary line between these waters, usually because one body of water is more sediment rich. The boundary this creates visually is never static, as the waters are always moving and eventually mix and become visually undistinguishable.
This confluence, to me, is a metaphor of human experience. When faced with tragedy, loss, or trauma there are common responses. Sometimes we give up on living and give in to the darkness of our tragedies. I think, more often though, is the tendency to push the pain down, locking it away in our dark and secret places, compartmentalizing it to survive. This is at least what I want to do in these moments. But I've found that when I do, I dishonor the truth of the experience, my pain, and myself. The pain stagnates, and becomes a slow poison. I've found that when I am honest with my broken places and acknowledge and honor the sorrow that now can not be separated from me, I am giving new life, light, and joy permission to enter. Joy and new life converging against -and into- my pain and loss. Opposing forces are able to coexist, eventually mixing, never to be separated.
In my life right now, the boundary between these contradictory forces is clear and visible, but I hope, like this painting, the lighter waters of light and new life will begin to intermingle with the darkness of pain, sorrow, and death. That accepting joy and learning to live fully, forever would be entangled with the life I lost and the life I mourn, indistinguishably both a part of me.
–  Kristina Boothe
Included with the issue
The Issue 04 Postcard -a small card with big intentions.
(Included with each online order or subscription)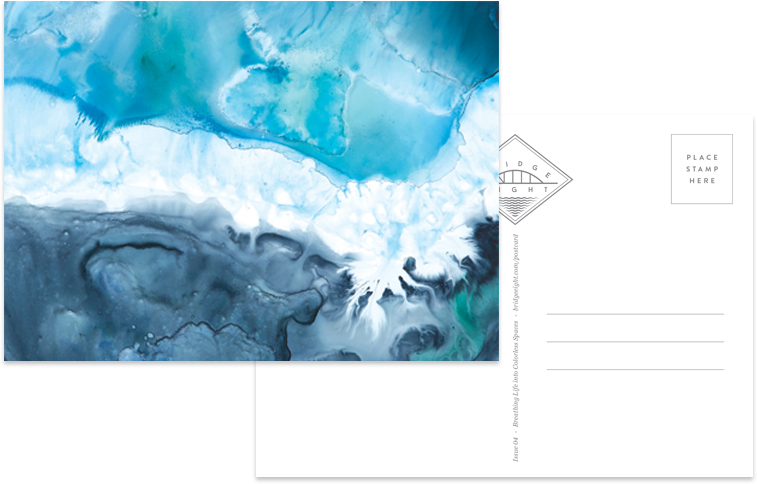 Spreads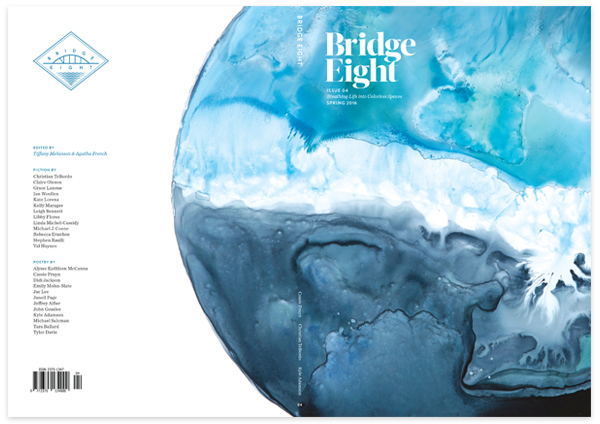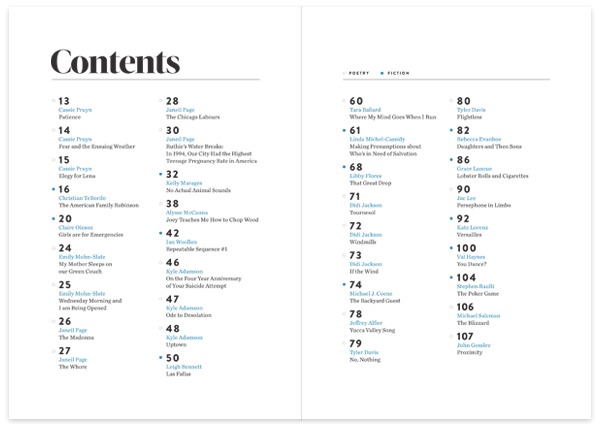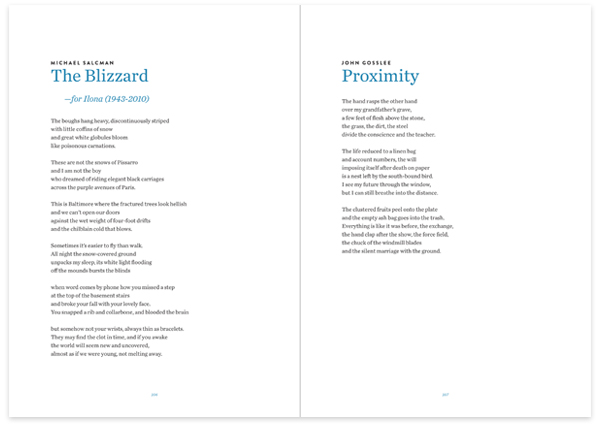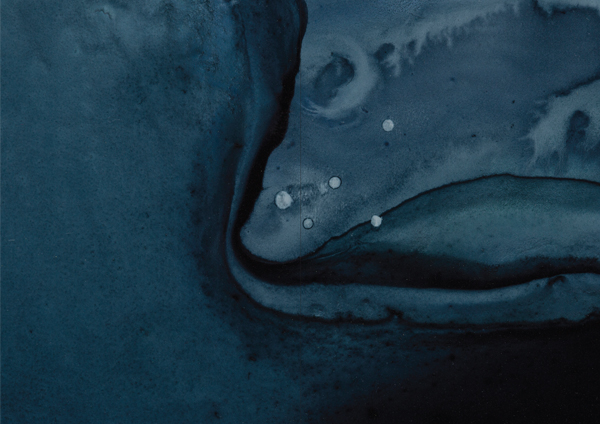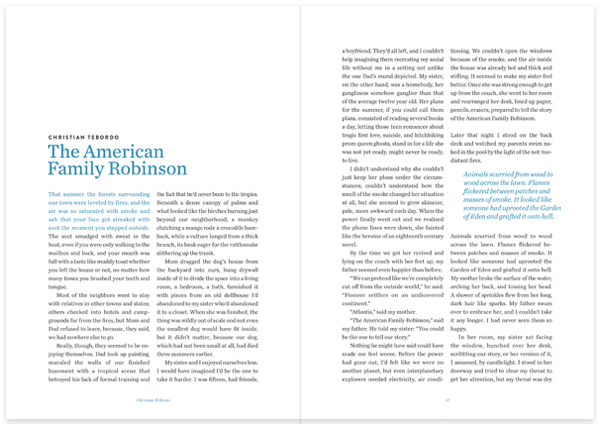 Stay informed
To learn about the release of our next issue, or hear about our next event,
please drop your email below. We hate spam, so promise never
to send anything unrelated to Bridge Eight.